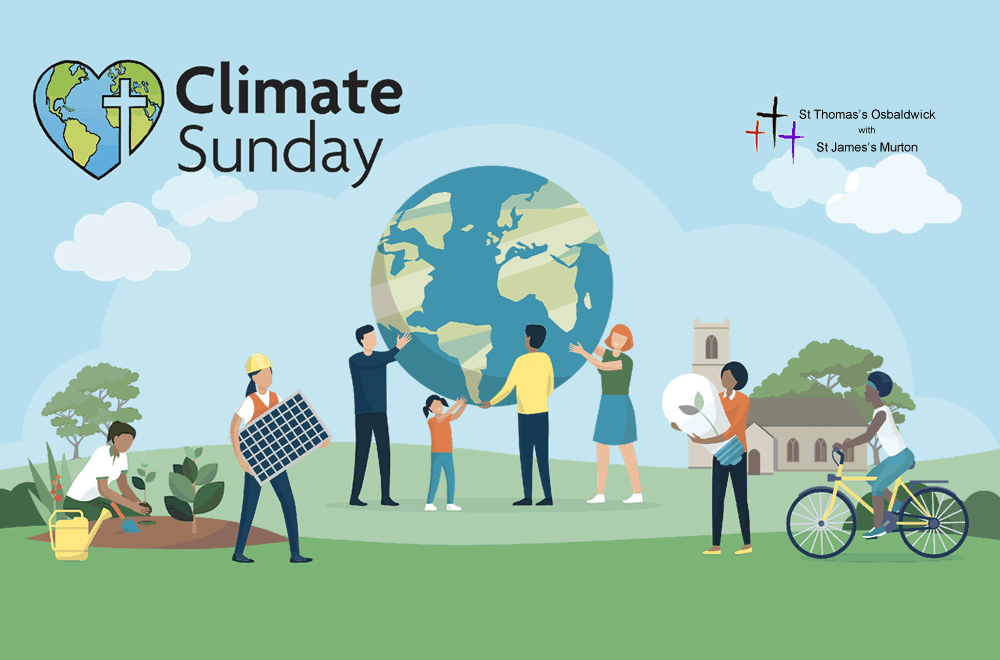 Climate Sunday
Dear Friends,
Our storm is the Climate Emergency, threatening the very existence of human life on earth. Our boats vary, from leaking dinghies in the global south, to luxury liners in the western world. Some of us feel the effects of climate change and biodiversity loss far more urgently than others. This is why Climate Change is one of the biggest jus-tice issues facing our generation and requires our urgent response.
The Church of England has already committed to act. To limit our environmen-tal impact we aim to reduce our carbon emissions to the point of net zero by the year 2030. The Archbishop of York wrote in the Yorkshire Post (Saturday 31st July):
"The Church is echoing and amplifying the demands of the poorest nations where the impacts of climate change are most devastating. It is our moral duty to do this. Moreover, what may first become apparent amongst the most vul-nerable will, in time, impact everyone […] It's tempting to see it as someone else's problem. We would love it just to go away. But it won't. The water levels are rising. The time to act is now. This affects each one of us."
Two months ago, a small band of brave young pilgrims left Truro (where the G7 summit was held) to walk all the way to Glasgow where the 26th UN Cli-mate Change Conference of the Parties (COP26) will be held in November. They are members of the Young Christian Climate Network (YCCN) and they take their pilgrimage in relay fashion – allowing anyone, young and old, to join them along the route. They carry a boat with them, to draw attention to climate change and climate justice: "We're all in the same storm..."
This month the YCCN pilgrimage arrives in York. On Monday 20th September there will be a special Evensong in York Minster to welcome the pilgrims. They will stay in the city until Friday, based at The Belfrey. During the week, they will run a series of events to enable young people to meet with religious and political leaders, to draw attention to the issue of climate justice. Come and support them – they deserve every encouragement.
If you want to know more or get involved, why not join us at St Thomas's on Sunday 5th September at 10am, for our special celebration of Climate Sunday?
Love and prayers