Osbaldwick's most famous tombstone is to be found inside St Thomas's church. It is that of Mary Ward (1585 - 1645) who, in 1609, founded the Institute of the Blessed Virgin Mary, a revolutionary Roman Catholic order of nuns.
History of Mary Ward
Rather than staying behind convent walls, the nuns travelled far and wide in this country and on the Continent, setting up schools and places of care for children, women and others in need. Part of Mary's vision was that her order should live by the same rule as the Jesuits. Her ideas and activities in setting up religious houses were considered outrageous by many at the time. Mary suffered much in order to put her vision of a 'new thing' for God into effect. For a while she was even imprisoned by the Inquisition until released by the Pope.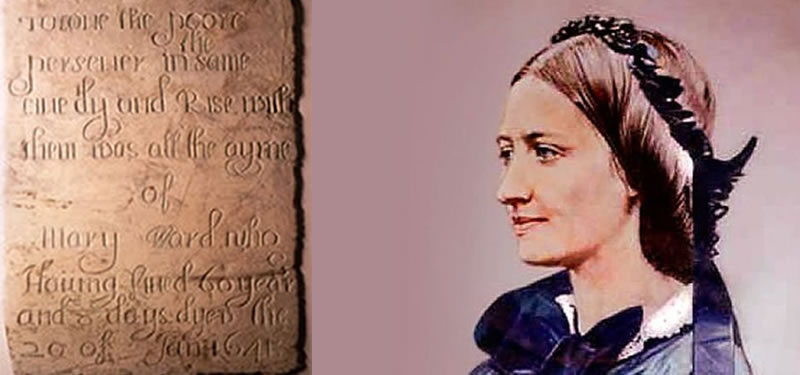 Mary Ward and Gravestone
On 30th January 1645, at the end of an immensely active life, Mary Ward died at the age of 60 in Heworth, near York city centre. Because of the danger of desecration, her companions thought it best not to bury her body in the city centre parish in which she died, but rather to find somewhere far less conspicuous. They found a happy solution in arranging for her body to be buried in Osbaldwick Churchyard, about a mile away, where, as the record says, 'the vicar was honest enough to be bribed'! Her burial took place on 1st February 1645 and was also attended by Church of England people. Despite the persecution of Roman Catholics at the time, Mary Ward was much admired and revered by many local people.
Mary's order was never recognised in her lifetime and was even banned by the Pope for a while, but Mary and her faithful companions persisted. The order gradually grew and developed. It was eventually officially recognised by the Church and Mary Ward came to be acknowledged as its foundress. In 2004 the Order was finally given the Jesuit Constitutions to follow, and adopted the name that Mary Ward had originally intended for it - the Congregation of Jesus.
Mary Ward Today
The work Mary Ward began four centuries ago now continues with schools and convents in this country and in many places overseas - Germany, Italy, Eastern Europe, Africa, India, Australia, USA, Canada and in South America.
The UK headquarters is at the Bar Convent in York. This is the oldest convent in the country and contains a fascinating museum of the Order's origins, life and work. Mary's remarkable stone, with its cryptic and inspiring inscription, remains intact today at Osbaldwick to pass on its message to all who read it. We are visited by groups - nuns, novices, children, teachers and other associates of the Order - from many countries.
Mary's stone can be viewed whenever the church is open, which is every day of the year from 9.00 am till 5.00 pm during British Summer Time and from 10.00 am till 4.00 pm at other times. For much more information please visit the Congregation of Jesus website at: https://www.congregationofjesus.org.uk
The Annual Mary Ward Service
At the end of January each year we hold the Mary Ward Service, which is attended by sisters from the convent, local churches and visitors from many places beyond. We have a very happy, ongoing link between our Church of England church and the Order which is treasured by both denominations.
This year's Mary Ward Service took place at St Thomas's Church on 29th January and was livestreamed on our Facebook page.